About Heritage Inn ~ Snowflake, Arizona
Get in the Middle of It All
The Heritage Inn in Snowflake, Arizona is at the heart of every White Mountains adventure. The inn is uniquely located within a short distance of the Petrified Forest, Painted Desert, Winslow, Route 66, the Snowflake Mormon Temple, Show Low, Pinetop and Lakeside, fishing, skiing, hiking, hunting, rock hounding, several national parks and historic sites, and a myriad of other scenic sites, events and activities.
With a 20-degree lower year-round temperature than the Phoenix and Tucson valleys, the Heritage Inn is the ideal escape. It's also the perfect mid-point for the road warriors in route to destinations in Colorado, Utah and New Mexico. And, don't forget our Tesla charging station that is free to our guests.
Not feeling adventuresome? Feel free to just relax, unwind, sit in our beautiful courtyard or guest lounge and sort out life, write a novel, work remotely, or get that much needed second wind.
With our newly remodeled rooms, healthy continental breakfast offering and first-class in-room amenities, the Heritage Inn is the ideal small hotel with the big hotel touches. Come see for yourself!
A world away but close to everything you want to do.
Group Events
With a historic 3-bedroom, 3.5 bath main house with a fully equipped kitchen, surrounded by 9 boutique rooms, each with their own bathroom, the Heritage Inn is ideally suited for corporate retreats, family reunions or larger overnight gatherings.
Call us to find out what we can do to make your next out of town event a huge success. Group rates available with a full Inn rental.
All New Room Amenities
In Room Keurig Coffee
A Robust Continental Breakfast
Gas Fireplace in Every Room
Powerful Wi-Fi and Streaming Options
4K Smart Televisions
DVD Players
Microwave and Refrigerator
Hand-made, Reclaimed Wood Furniture
Walk-in Showers and New Fixtures
Light Blocking Window Treatments
Indoor and Outdoor Lighting
Modern Farmhouse Design and Decor
Higher Capacity and Quieter AC Units
The Colorful History of Heritage Inn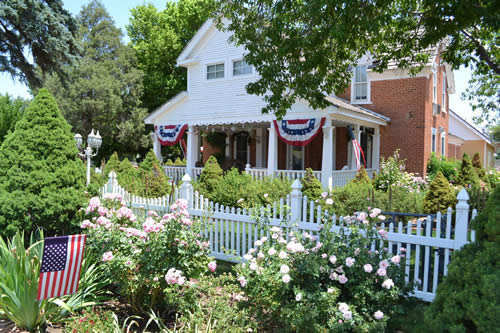 Osmer Dennis Flake was born March 6, 1868 in Beaver Utah. He was the 6th child of William Morgan Flake (founder of Snowflake) and Lucy Hannah White. Osmer married Elsie Owens on March 11, 1891 and constructed a home of local burnt brick and lime mortar. They moved into that home in 1893. There were two large rooms down stairs and two large rooms upstairs.
In 1900 Osmer had Allen Frost add a large kitchen, laundry room, pantry, dining room and bedroom onto the east side of the house. A portion of this bedroom was later used as a bathroom when plumbing was finally put into the home.
Osmer kept ownership of the home until 1935. From 1923 to 1933 Osmer's sister Pearl and Frank McClause lived in the home. In 1933 the home was rented to the John Fuller family. From 1935 to 1941 Bruce (nephew to Osmer D.) and Irene Flake, purchased the home and lived there for 6 years. In 1941 James M. Flake (Brother to Osmer D.) purchased the home from his son Bruce and the Elwood Peterson family rented it for two years (1941 to 1943).
Virgil and Gerda Flake purchased the home from Virgil's father James M. Flake for $2000.00 in 1943 and they lived there until 1964. They raised their 8 children in the home. They hired John Oakland, (a builder for the Mormon church who had come to construct the new Snowflake chapel) to do extensive remodeling on the home.
In November of 1964 Carvel and Cleone (grand niece of Osmer D.) Solomon moved into the home. Cleone's parents Virgil and Gerda had gone to Mesa to work in the Arizona temple. The Solomon's purchased the home from Gerda after Virgil's death in 1966 and raised their 8 children, (6 were born after moving in), in the home. Carvel, a school teacher/carpenter, added 2 bathrooms and a large family room on to the North East side of the home. He said, he needed to separate the piano and the TV, as both were usually playing at the same time. They lived there until the year 2000 when it was finally sold to Dean and Sandra Porter who lovingly remodeled it into the world class inn.
"… the place to stay in the area. It is the old Victorian house meets modern amenities. There is a locally owned great restaurant right next to it, and a cute coffee shop in walking distance. If you love staying in a small town, you cannot find many places as good as this. Most highly recommended." ~ Masato, Google Review